Office and Closet Cabinets
Get the Premium Storage You Need in Toronto
Custom Office and Closet Cabinets in Toronto
At Micasa Kitchens, we do deluxe custom renovations that make a home complete, and exactly what the homeowner is looking for. One of the areas that many homeowners would like to improve on is storage space, and with our homes becoming more crowded — both with material items and people working from home — storage space is more important than ever. With Micasa Kitchens in Toronto, you can get the custom office or closet cabinetry that fits you and your needs.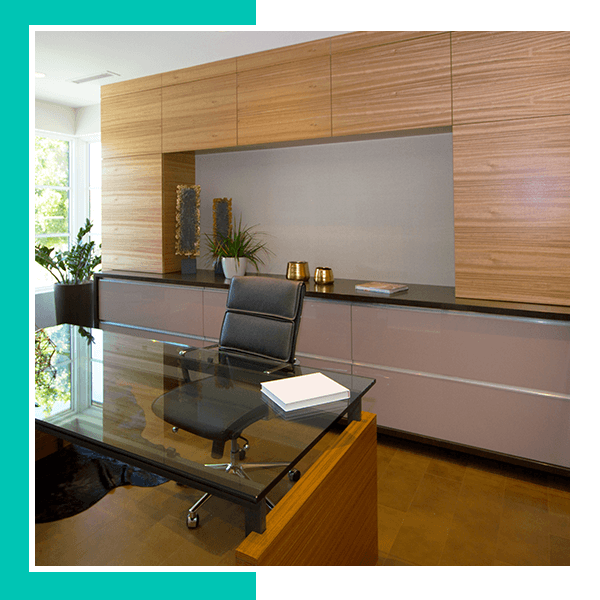 The Benefits of Building Custom Cabinets With Micasa:
Cabinets built specifically for your needs, and with your design choices in mind

Materials that are hand-chosen by you, even down to the individual piece

Cabinets can include security and special storage features

Spaces for computer monitors, mini-fridges, extension cords, keyboards, filing, and anything else you might need to complete your home office

Spaces for jewelry, shoes, dresses, collectibles, and anything else you might keep safely stored away
Keep Your Home Clean and Items Safe With Micasa
When it comes to cabinetry, the most important thing it does is keep your items organized and safely out of harm's way. With Micasa Kitchens, you can get custom cabinetry that takes this to the next level. Not only will you have a place to store your things — even the most awkward or delicate items — but you'll have cabinetry that is designed to make your workflow or your daily routine more convenient. We can even create cabinets for your most prized possessions, making sure to add any security or environmental features needed to keep them safe. From jewelry to family heirlooms, we'll design a cabinet where they'll be safe from harm and deterioration.
Install Office or Closet Cabinetry With Micasa Today
If you've been living in a home with a crowded, disheveled closet or a workspace that is more just a "space," then Micasa Kitchens wants to give you the deluxe cabinetry you need to make your space more organized, keep better track of things, and to keep important documents or items safely in storage. Reach out to us today in Toronto to see what we can do for you!